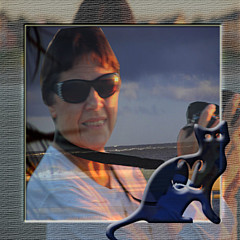 Cynthia Leaphart Shop
Purchase canvas prints, framed prints, and more featuring artwork from Cynthia Leaphart.
My husband is an asphalt plant worker and in our early years, he had a kitty that was called 'Plant Kitty' attach to him. They had a special bond. She even laid on his desk as he worked. One day, 'Plant Kitty' was killed by a dog protecting her seven kittens. Seven workers at his plant adopted the kittens, him being one. The day he brought our little blue-eyed tuxedo kitty, Sylvester, home totally changed my life forever. I have since and always will love my furry friends. We have long lost Sylvester and many others to age...
more