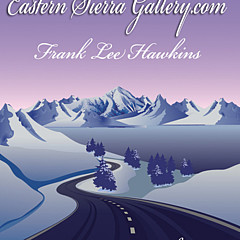 Eastern Sierra Gallery Shop
Purchase canvas prints, framed prints, and more featuring artwork from Eastern Sierra Gallery.
Short Artists Statement of Frank Lee Hawkins Over the past 35 years I have enjoyed the areas that I have been blessed to live in and visit. I've been living in the Eastern Sierra since 1982. That's over half my life. Artists that influence me are Eyvind Earle, Roger Dean, Greg Newbold, Bruce Ricker, Salvador Dali, Jacek Yerka and most recently Ernst Haeckel I thank God for enough health to hike into his creation and the means to capture a moment of the experience in a photograph or artwork. I'm thankful for the means to share that moment with you. Art...
more