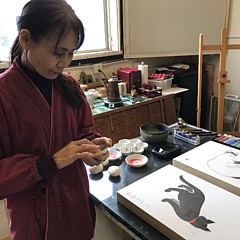 Fumiyo Yoshikawa Art Shop
Shop for wall art, home decor, apparel, and more featuring artwork from Fumiyo Yoshikawa.
Born and raised in Kyoto, where she studied Japanese art and history, Fumiyo Yoshikawa specializes in the Japanese brush painting methods Sumi-e and nihonga. Since moving to San Francisco in 2004, her work has also incorporated elements of American art. Over the years she has developed several styles of art from traditional representational ink painting to abstract mixed media that is all organic and spiritual, based on the philosophies of Zen, Shinto and Taoism. She has exhibited widely at art museums, galleries, and institutions in Japan since 1984 and in the United States since...
more