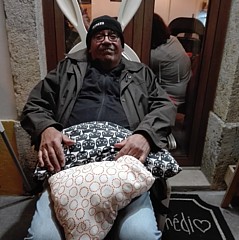 Gabriel Coelho Art Shop
Shop for wall art, home decor, apparel, and more featuring artwork from Gabriel Coelho.
Gabriel Ramos David Coelho (Lisbon, 1958) Artistic activity since 1976 in many fields: ceramics, painting, illustration, cartoons, performance art, postal art,wodeen toys, puppet theater, and poetry writing. Individual Painting exibitions since 1983 in Portugal. Sells directly any artworks and is open to new projects and orders. He has works in several private collections in Portugal, Spain, Angola, United States, etc. l mail: gabcoe43@gmail.com website: gabriel-coelho.artistwebsites.com wooden toys website: ...
more