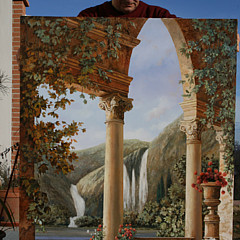 Guido Borelli Art Shop
Shop for wall art, home decor, apparel, and more featuring artwork from Guido Borelli.
By Debra Argen-Nestadargennesta@earthlink.net203-358-9701 Artist Guido Borelli da Caluso was born in 1952, in Caluso, Italy at the foothills of the Italian Alps. Born into an artistic family, (his grandfather was a woodcarver and furniture maker, and his paternal uncle and aunt paint) young Guido first discovered painting somewhere between the ages of 4 to 6 years old. With the encouragement of his family, Guido's first art challenge came at age 13 in the form of a public award. Although he did not win this art award, he continued to make artistic strides, and had his first personal art...
more