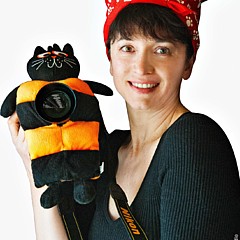 Irina ArchAngelSkaya Shop - Scarlett And Melanie
Purchase canvas prints, framed prints, and more featuring artwork from Irina ArchAngelSkaya.
Irina, aka Pet Angel Irina, Pet Angel is recognized in Santa Fe, NM area as a pet photographer and an experienced animal caretaker. Irina is able to capture the innate personalities of her subjects using her understanding of animal behavior. As a photographer for the Felines and Friends New Mexico, Irina photographs cats helping them for future adoption. Irina spends much of her shoots rolling on the ground with her subject, getting in their skin as much as possible and encouraging them to open up to the camera. Her history working as an animal caretaker as well as animal...
more