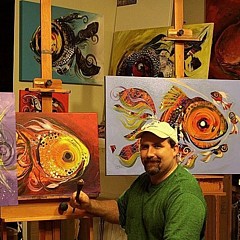 J Vincent Scarpace Shop
Purchase canvas prints, framed prints, and more featuring artwork from J Vincent Scarpace.
J. Vincent Scarpace, Artist. b.1971 Buffalo, New York Leaving much behind ... His life is consumed with a fascination of, and enthrallment with, the creative process. Well beyond artistic passion, J. lives the life of, and the ups and down (personally and professionally) of an artist. This is whom he is, stated simply. His every move is toward the furthering of his near-obsession with the creation of art via self-expression, at nearly all cost. Widely regarded as colorful, completely original, and whimsical, the original works of...
more