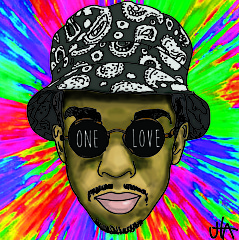 Chief Hachibi Art Shop
Shop for wall art, home decor, apparel, and more featuring artwork from Chief Hachibi.
When my grandmother first held me, she noticed my large hands and predicted that I would do something great with them one day. Five years later, my kindergarten teacher told my parents, "Jeffery needs to finish coloring." In elementary school, I doodled a lot, often in class. My mother begged me to stop doodling and to listen to the homework assignments. Around sixth grade, my mother decided that my doodles showed promise. She enrolled me in cartooning and figure drawing classes outside of school. I also took private studio art classes in high...
more