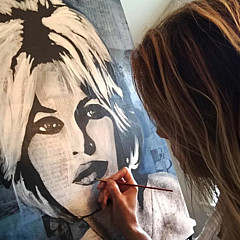 Kathleen Artist PRO Shop - Marilyn Monroe Paintings By Kathleen Artist Pro
Purchase canvas prints, framed prints, and more featuring artwork from Kathleen Artist PRO.
Born in Paris, Kathleen grew up around artistic parents. Later, she pursues her passion by working as an indoor designer in Orlando, Florida and in Montreal, Canada where she is presently living. At a very young age, Kathleen is inspired by famous painters, theather, photography, literature and even music that she listens to create her own paintings. Kathleen has a natural and logical link for the society that encounters us but is soon passionate by the most famous personalities that marked our history throughout the years. She invented the term ''Instinctive Realism...
more