Hello....my name is Kelly. I am a native of Maryland and grew up in a small town called Hebron. I left home when I was 19 and lived in Colorado, Idaho, Spain, California, S. Carolina, Alaska, Arizona, N. Carolina, Florida, Delaware and currently in Myrtle Beach.
I became interested in photography around 1986 when I was in Spain. I bought a Nikon 35mm camera complete with a few lens's and filters but my pictures consisted of my kids and pets. In the past few years I have taken photos for friends and family (and some strange people). Portraits, outings, Christmas, weddings....but I really like Americana and landscaping photos the best. There is a certain feeling of calm, serenity, peacefulness that goes along with it that just makes it all right.
View my website at http://kelly-reber.pixels.com/
AND www.facebook.com/LeolyinPhotography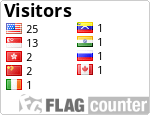 Kelly Reber joined Fine Art America on January 21st, 2012.