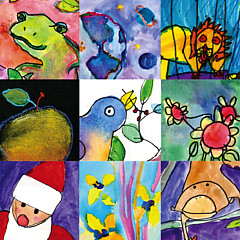 Kids Did It Designs Collection Shop
Purchase canvas prints, framed prints, and more featuring artwork from Kids Did It Designs Collection.
Created in 1996, our California art licensing and design studio publishes children's artwork from our Kids-Did-It! Designs® kids' art collection, inspiring creativity with fine art created by our young art students, ages 3 to 14. In addition to learning the fundamentals of art and design, each young student represented in the Kids-Did-It! collection also earns royalties for the licensed reproduction of their artwork. Learn more: Kids-Did-It! Designs Select and view our regularly updated Artwork Galleries below. KIDS' ART COLLECTION | FINE ART PRINTS | ...
more