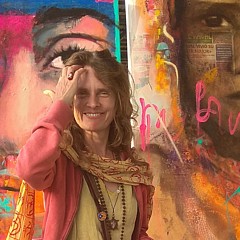 Laura Tietjens Art Shop
Shop for wall art, home decor, apparel, and more featuring artwork from Laura Tietjens.
Painter in Barcelona. One of the many good things that my mother did when i was still a toddler, was putting up a large blackboard in the living room, and giving me chalk to draw with. Drawing was basically how i spent my days, ever since. People who pass by the art markets that i attend ask: when did you start. Well, i never stopped. Sure, life gave me other items to chew on as well, growing a kid as a single mother, adventures in many countries, work as a coach, and as a writer of a book that advices parents about dealing with their teenagers ('Hoezo...
more