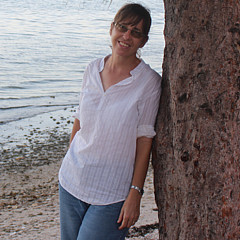 Maria Rova Shop - Art On Barkcloth
Purchase canvas prints, framed prints, and more featuring artwork from Maria Rova.
The Fiji Islands are my home, and source of inspiration, as I use dyes, paint, barkcloth, sand, silk and cement to respond in my own creative way to the challenges, tension, and beauty of life in a developing Pacific island nation. Sea changes can have surprising effects: since leaving behind all that was familiar in my American/German upbringing, to build a life here in my husband's homeland two decades ago, my art has taken on dynamism of its own… My work is awash with the intense, vibrant colors of the tropics, and my themes are often an exploration of Fiji's stunning natural environment and rich cultural...
more