French photographer based in San Francisco Bay Area, California.
Color palette enthusiast ~ Creative work.
Copyright: Marji Lang Photography.
None of the images may be used without written permission including copying, duplicating, reproducing, storing, publishing, or transmitting by any means.
www.marjilang.com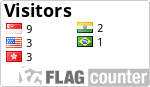 Marji Lang joined Fine Art America on March 19th, 2015.