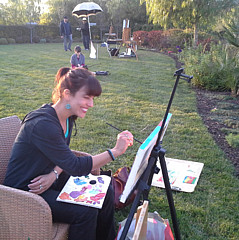 Nicki La Rosa Art Shop
Shop for wall art, home decor, apparel, and more featuring artwork from Nicki La Rosa.
Thank you so much for visiting! It was my love of the sea, trees mother nature and all good medicines I learned while living out 'west' in Los Angeles and in Hawaii, which brought me back home to the Tampa Bay Area. I want to anchor what I've learned and repay my debt of gratitude to my homeland. The surrounding water and beaches here make for stunning photography, inspire my paintings and overall soothing of my Piscean soul. My ultimate dream is to manifest the 'Gratitude Tree Network,' 24/7 television/media network to encourage the choice of gratitude at all...
more