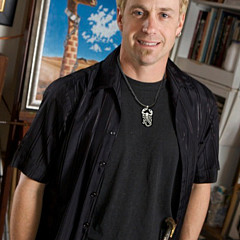 Paxton Mobley Art Shop
Shop for wall art, home decor, apparel, and more featuring artwork from Paxton Mobley.
Paxton was born in Shreveport, Louisiana in 1970. At the age of 4 his parents moved back to their hometown of Athens, Alabama where they built a house on Elk River outside of town. Paxton spent most of his childhood there roaming freely in the surrounding woods. From a very young age Paxton showed signs of an active imagination and a growing creative ability. This was seen in his regular acts of sculpting his food into art forms at the dinner table and his miniature creations of boats and cities down to the last detail, ready for their small...
more