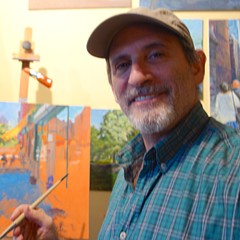 Peter Salwen Art Shop
Shop for wall art, home decor, apparel, and more featuring artwork from Peter Salwen.
Peter Salwen's light-filled urban landscapes are in collections across the U.S., Europe and South America. Salwen's paintings, he says 'try to express the deep pleasure to be found in something as simple as sunlight on a wall or the ordinary traffic of people and machinery at city street corner. At heart they are simply thank-you notes to Nature for providing such an endless array of visual joys, most especially in New York City, which is of course Nature's noblest creation. 'The city streets offer up an ever-shifting kaleidoscope of shapes, colors and impressions to the interested...
more