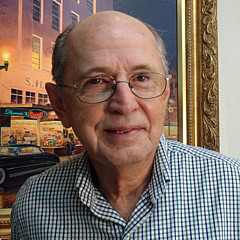 Randy Welborn Art Shop - Landscape Paintings
Shop for wall art, home decor, apparel, and more featuring artwork from Randy Welborn.
I remember like it was yesterday... The little black box of PRANG watercolors I received at Christmas when I was seven started me on a lifelong love of drawing and painting. Rendering the images of every comic book character from Mickey Mouse to Superman and Little Lulu furthered my art education. Little Golden Books, 'The Color Kittens,' taught me the basics of mixing colors. Then a magical experience happened! At the Jefferson Theater in downtown Beaumont, Texas (where I was born and raised), I saw Disney's 'Snow White and the Seven Dwarfs.' Eagerly I...
more