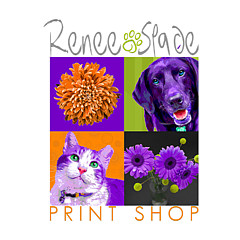 Renee Spade Photography Shop - Flower Joy
Purchase canvas prints, framed prints, and more featuring artwork from Renee Spade Photography.
Sometime life surprises you! Through a journey with breast cancer(a successful so far) in 2003-04, it was the healing energy of animals, especially my kitties Jack & Spade, that helped me fight the battle. That love lead me to a new chapter with photography. I jumped in! I learned my craft and started my business specializing in pet photography and never looked back. After 14 years and counting, I have been honored to create my modern colorful photography and digital Warhol inspired PopART renditions for private and commercial clients.Finally with some...
more