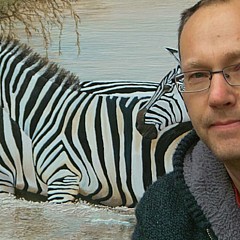 Russell Hinckley Art Shop
Shop for wall art, home decor, apparel, and more featuring artwork from Russell Hinckley.
Thank you for looking me up. I'm Russell Hinckley, born 31/05/1964 in Sheffield, England and living in Vlaardingen, The Netherlands. Since 2007 I have followed several courses at 'De Vrije Academie', also in Vlaardingen, first studying the basics of drawing and painting and later concentrating on painting. I started with acrylic paints but soon found that I preferred painting with oil paints, sometimes using modelling paste or sand to give my paintings more texture. I am a self taught artist, always trying to incorporate any findings I come across into my most recent...
more