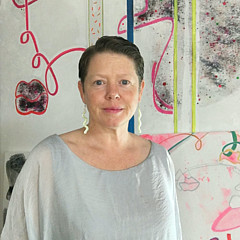 Valyntina Grenier Shop
Purchase canvas prints, framed prints, and more featuring artwork from Valyntina Grenier.
Use BIG discount code YCZMFY through August 31st, the final day to VOTE for Don't Shoot in the BILLBOARD CONTEST! As a multi-genre artist living in Tucson, Arizona, my work advocates for our planet and all her vulnerable mortals. I've written two poetry chapbooks, Fever Dream/ Take Heart (Cathexis Northwest Press, 2020) and In Our Now (Finishing Line Press, 2022). Graduating with a BA in English from UC Berkeley and an MFA in poetry from St. Mary's College of CA, I'm mostly self-taught as a visual artist. For the past dozen years I've maintained a consistent...
more