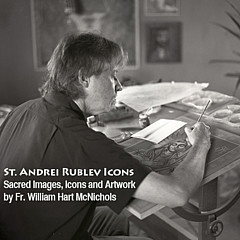 William Hart McNichols Shop
Shop for wall art, home decor, apparel, and more featuring artwork from William Hart McNichols.
Artist Statement on Iconography "There is only Christ: He is everything and He is in everything.' St. Paul, Colossians 3:11 I honor and revere the Byzantine icons and the profound spirituality of the Othodox churches. I try to bring true devotion and prayer into the process of writing an icon, dependent upon the inspiration of the Blessed Trinity, the saints, holy ones, and the Mother of God. As a Roman Catholic iconographer, I have no intention of assuming to be Orthodox, but continue to pray with many others, for unity brought about by the Spirit, amongst the churches. 2014 is my 24th...
more