Do Space Aliens Have Copyrights ?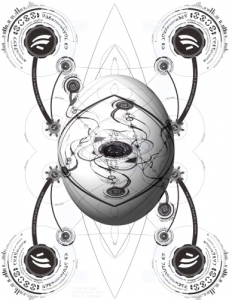 In 2007 a person (using the pseudonym, "Isaac") appeared on the internet, claiming to be a former engineer at the Department of Defense, Palo Alto California labs, formerly working on a program called CARET (Commercial Applications Research for Extra-terrestrial Technologies). He posted a series of images supposedly smuggled out of those labs in the 1980's -- images depicting diagrams of extraterrestrial technology, supposedly reproduced by Palo Alto technical artists copying the diagrams from curved panels of alien technology itself. An exhaustive account of this curious debut appears at http://www.dronehoax.com/drone_history/isaac_documentation.htm

In the year of Isaac's appearance, I downloaded his large image files of supposed alien tech specs, which he freely offered to the public at that time. These large image files appear to have disappeared from the internet today, with only much smaller versions continuing to linger in historical accounts of what most people have come to regard as one of the most elaborate UFO hoaxes ever.

The designs that Isaac freely shared with the public supposedly existed already fixed (by aliens) in the tangible medium of their technology. The supposed Palo Alto technical artists merely copied what already existed fully expressed, NOT adding anything new or original. Consequently, if anybody would have had copyrights to these diagrams, then the aliens would have.

I have begun using these images in derivative works, since copyright laws apparently do not seem to apply. I call the image posted here Quantum Egg.

The only way that the person named "Isaac" could exercise a claim of copyright would be to recant the entire story that supports his images' authenticity, thus ruining his credibility, which seemed to be his original intent to promote.

So, do terrestrial copyright laws apply to extra-terrestrials? Would government artists be infringing, by copying native inscriptions from advanced alien technology?